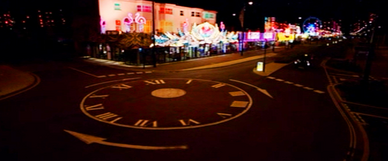 Sunderland (Wonderland)
is the main setting of the film.
Overview
Unlike other Wonderland realms seen in other works, this Wonderland is set in the North East of England, in Sunderland. Sunderland is a port and industrial city in northeastern England.
Malice in Wonderland
Alice is taken to Wonderland by Whitey. Wonderland boasts many locations as seen in the film.
It is the home and workplace of Doochey.
The gaden maze is a part of Doochey Mansion.
This is the wokplace of Gonzo. This is the first location to be seen in Sunderland.
Alice's mother had once lived in a house on Hulmes Street.
Hatties is a diner and mobile brothel, owned and operated by Hattie.
This location is where Harry's party is taking place.
This marks  the entrance to Sunderland.
This motel is where Whitey takes Alice.
Whitey goes to the store.
Alice uses this booth to make a call.
Alice is taken here by Whitey.
History
The metropolitan borough was formed in 1974 under the Local Government Act 1972 by the merger of several districts of County Durham - Washington Urban District, Houghton-le-Spring Urban District and Hetton Urban District - with the County Borough of Sunderland.
The metropolitan borough was granted city status in 1992, the 40th anniversary of the Queen's accession. At the Queen's Golden Jubilee the city petitioned to be allowed a Lord Mayor, but was unsuccessful. Although the city does not have a Cathedral, as it is located in the Diocese of Durham, it does have Sunderland Minster.
Between 1939 and 1945 the Wear yards launched 245 merchant ships totaling 1.5 million tons, a quarter of the merchant tonnage produced in the UK at this period. Competition from overseas caused a downturn in demand for Sunderland built ships toward the end of the 20th century. The last shipyard in Sunderland closed in 1988.
HMS Ocean, the Royal Navy's biggest warship, is Sunderland's adopted ship. In March 2004 it was granted the freedom of the City. St Benedict Bishop was adopted as the City's Patron Saint in March 2004.
Sources
Gallery