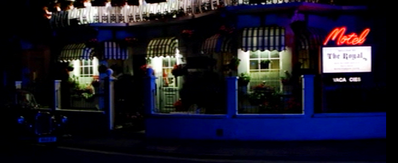 The Royal Motel
is a location seen in Sunderland.
Description
The room that Alice and Whitey were in had orange lights and red wallpapers. The room was very small and had a bed with a coffee table across from a red couch.
Malice in Wonderland
Whitey had taken Alice to the motel. They stay there for a few moments. Alice had just learned her name and was thinking about that. Whitey then leaves, he locks in Alice and promises to return in a few minutes. Seconds later, Alice takes another pill and sleeps. As Whitey is about to leave, he is knocked out by one of Gonzo's men. Alice is taken from the motel room.
Gallery