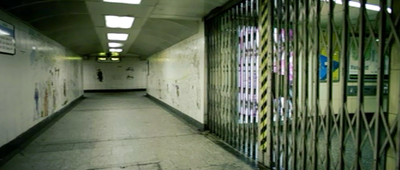 The Subway Station
is location seen in
Malice in Wonderland
.
Description
Not much of the location is seen. The subway is very empty. It is home to the Bag Lady.
Malice in Wonderland
Alice is running away from someone or something, she encounters the bag lady who asks her for some spare change. Alice then gives her and runs away from two men in black.
This location is seen at the end of the film. Alice finds herself back in the subway station and leaves. Later she arrives and goes to speak to the bag lady.
Trivia
This is the first and last location seen in the film.
At the begining of the film, where Alice sees the homless woman, an M (for Malice) is revealed on a door, on the other side of that door is a W (for Wonderland), as seen at the end of the film.
Gallery