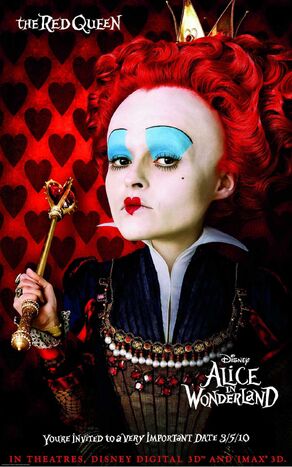 The
Red Queen
is a fictional character in Lewis Carroll's fantasy novella,
Through the Looking-Glass
. She is often confused with the Queen of Hearts from the previous book
Alice's Adventures in Wonderland
, although the two are very different.
Overview
With a motif of Through the Looking-Glass being a representation of the game of chess, the Red Queen could be viewed as an antagonist in the story as she is the queen for the side opposing Alice. Despite this, their initial encounter is a cordial one, with the Red Queen explaining the rules of Chess concerning promotion — specifically that Alice is able to become a queen by starting out as a pawn and reaching the eighth square at the opposite end of the board. As a queen in the game of Chess, the Red Queen is able to move swiftly and effortlessly.
Later, in Chapter 9, she appears with the White Queen, posing a series of typical Wonderland/Looking-Glass questions ("Divide a loaf by a knife: what's the answer to
that
?"), and then celebrating Alice's promotion from pawn to queen. When that celebration goes awry, Alice turns upon the Red Queen, whom she "considers as the cause of all the mischief", and shakes her until the queen morphs into Alice's pet kitten. In doing this, Alice presents an end game, awakening from the dream world of the looking glass, by both realizing her hallucination and symbolically "taking" the Red Queen in order to checkmate the Red King.
Gallery