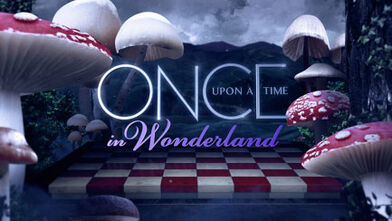 Once Upon a Time in Wonderland
is an American fantasy-drama series created by Edward Kitsis, Adam Horowitz, Zack Estrin and Jane Espenson for ABC Studios. The program is a spin-off of
Once Upon a Time
and airs on ABC at 8:00pm (ET) on Thursday nights in the 2013–14 television season beginning October 10, 2013.
The series is based around the Lewis Carroll fairytale classic Alice's Adventures in Wonderland but with a different twist from the other adaptations and takes place in the same universe as Once Upon a Time in present-day Wonderland, with flashbacks to pre-Dark Curse Wonderland.As such, it is expected to follow the same setting as the parent series, including the use of Disney and Lost related allusions. In addition, the series will have crossover episodes with Once Upon a Time that will also involve a connection with the characters that are trapped in Storybrooke, Maine.
Premise
In a Victorian London-type world, the young and beautiful Alice tells a tale of a strange new land that exists on the other side of a rabbit hole. An invisible cat, a hookah-smoking caterpillar, and playing cards that talk are just some of the fantastic things she's seen during this impossible adventure. Believing Alice to be insane, her doctors aim to cure her with a treatment—presumably a lobotomy—that will make her forget everything. Alice seems ready to put it all behind her… especially the painful memory of the genie Cyrus, with whom she fell in love before losing him forever. But deep down, she knows this world is real. Just in the nick of time, the sardonic Knave of Hearts and the irrepressible White Rabbit save her from a doomed fate. Now Alice is determined to find Cyrus while evading the plots of Jafar and the Red Queen.
Sources