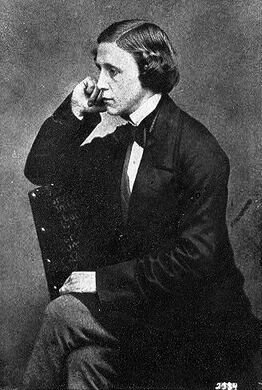 Charles Lutwidge Dodgson
(
27 January 1832 – 14 January 1898
), better known by the pseudonym
Lewis Carroll
, was an English author, mathematician, Anglican deacon and photographer. He was thought by manny people to be a genious and enjoyed puzzles. He is best known for writing
Alice's Adventures in Wonderland
and its sequel,
Through the Looking Glass
, as well as the poems
The Hunting of the Snark
and
Jabberwocky
.
Overview
Lewis Carroll was for many years widely assumed to have derived his own "Alice" from Alice Liddell, the daughter of a close friend. This was given some apparent substance by the fact the acrostic poem at the end of Through the Looking Glass spells out her name, and that there are many superficial references to her hidden in the text of both books. Carroll himself, however, repeatedly denied in his later life that his "little heroine" was based on any real child.
Though information is scarce (Carroll's diaries for the years 1858–1862 are missing), it does seem clear that Carroll's friendship with the Liddell family was an important part of his life in the late 1850's, and he grew into the habit of taking the children on rowing trips. It was during one such expedition, on July 4, 1862, that Carroll invented the outline of the story that eventually became his first and largest commercial success. Having told the story and been begged by Alice Liddell to write it down, Carroll eventually (after much delay) presented her with a handwritten, illustrated manuscript entitled Alice's Adventures Under Ground in November 1864. This manuscript became Alice's Adventures in Wonderland, which was first published in 1865 with illustrations by Sir James Tenniel. On his boat expedition, he was accompanied by Robinson Duckworth where he travels on the River Thames that inspired the book.
Sources