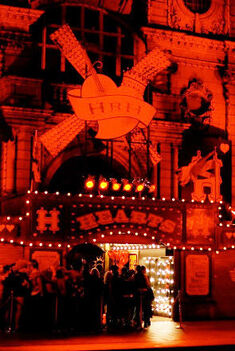 The Hearts of Knight Club
is a location seen in
Malice in Wonderland
.
Description
Hearts is club that was used for Harry's party, which was a circus themed party. The Hearts Club was very crowded and Dean and Dom working as the bouncers.
Malice in Wonderland
The club is seen near the end of the film. Dean and Dom were preventing people without an invitation from entering. Alice and Gonzo then arrive. Alice is taken to a room where Rex, Harry, Jacqui and others were. Alice sits and they negoitiate a deal for Gonzo. Alice then asks to go the bar. She then goes to the bar. Later, Whitey arrives with Harry's present. Later, Gonzo is killed and just as Alice and Whitey were about to leave, Hattie arrives and Alice is put on trial. Later, Alice manages to escape with the help of Felix Chester.
Trivia
The name of the bar is 'Drink Me'.
Gallery