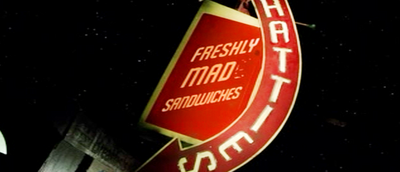 Hattie's
is a location seen in the
film
.
Description
Hattie's is a diner, owned by Hattie. It's  always busy, catering to the hungry and the horny. The outside is filled with
Malice in Wonderland
Alice enters the diner, she was chasing Midge. She sits and then Midge arrives abd tells her that it was her brother who she have encountered before, not himm, he then leaves and Alice takes another pill, and awakens to filnd herself in a new dress with red streaks in her hair. Hattie then speaks to Alice. Hattie informs her that the dinder is also a mobile brothel and that Alice would have to pay her back the money she spent on the hair abd dress. Alice is then taken into a room, located in the back of a rig, by a trucker. Alice manges to escape by driving the truck away.
Trivia
The 'E' of the 'Freshly Made Sandwiches' is not visible; so it reads 'Freshly Mad Sandwiches'; which is a reference to the Mad Hatter.
Gallery