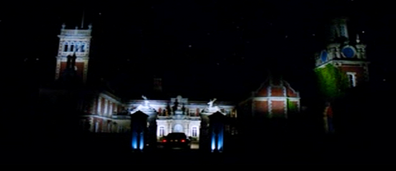 Doochey Mansion
is a location seen in
Malice in Wonderland
.
Description
Doochey Mansion id owned by Doochey. The mansion is very large and elegant. It has a lot of Victorian architecture. The mansion also has a garden maze in the back.
Malice in Wonderland
A part of the mansion is seen as Whitey speaks to Doochey. 
The Caterpilla takes Alice to the mansion so she can get an invitation to Harry Hunt's party. Alice enters the mansion and is taken to an empty room. Unknowingly, a portrait of Doochey was actually a screen, and she was looking at Alice. Doochey was eating soup, she threw the bowl because is the wrong order. Alice and Doochey then speaks for a while. Doochey shows Alice a device which is some sort of brain scanner. Doochey tells Alice to follow the red light, because red means go.
Doochey's mansion is seen again as Whitey speaks to Doochey once more.
Trivia
This location is a reference to the Duchess' place.
Gallery