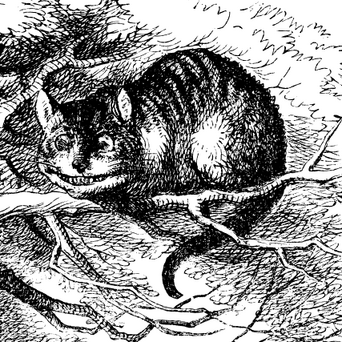 The
Cheshire Cat
  is a fictional cat popularised by Lewis Carroll in
Alice's Adventures in Wonderland
and known for its distinctive mischievous grin.
Origins
Dairy Farming
A possible origin of the phrase "Grinning like a Cheshire Cat" is one favoured by the people of Cheshire, which boasts numerous dairy farms; hence the cats grin because of the abundance of milk and cream.
Heraldic Lion
In 1853, Samuel Maunder explains:
"This phrase owes its origin to the unhappy attempts of a sign painter of that country to represent a lion rampant, which was the crest of an influential family, on the sign-boards of many of the inns. The resemblance of these lions to cats caused them to be generally called by the more ignoble name. A similar case is to be found in the village of Charlton, between Pewsey and Devizes, Wiltshire. A public-house by the roadside is commonly known by the name of The Cat at Charlton. The sign of the house was originally a lion or tiger, or some such animal, the crest of the family of Sir Edward Poore."
Alice's Adventures in Wonderland
Alice first encounters the Cheshire Cat at the Duchess' house in her kitchen, and then later outside on the branches of a tree, where it appears and disappears at will, engaging Alice in amusing but sometimes vexing conversation. The cat sometimes raises philosophical points that annoy or baffle Alice. It does, however, appear to cheer her up when it turns up suddenly at the Queen of Hearts' croquet field, and when sentenced to death baffles everyone by having made its head appear without its body, sparking a massive argument between the executioner and the King and Queen of Hearts about whether something that does not have a body can indeed be beheaded.
At one point, the cat disappears gradually until nothing is left but its grin, prompting Alice to remark that she has often seen a cat without a grin but never a grin without a cat.
Gallery