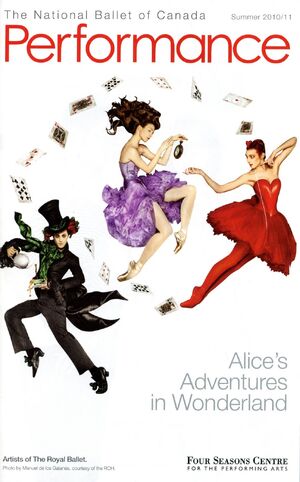 Alice's Adventures in Wonderland
is a ballet in three acts by Christopher Wheeldon with a scenario by Nicholas Wright. It was commissioned by The Royal Ballet, Covent Garden, and the National Ballet of Canada and had its world premiere on Monday, 28 February 2011. The music by Joby Talbot is the first full-length score (1 hour 40 minutes) for the Royal Ballet in 20 years.
Artistic Philosophy
The work is based on Lewis Carroll's well-known children's story Alice's Adventures in Wonderland. Wheeldon was attracted by the physicality of the characters and the perfect central role for a ballerina: "The Royal Ballet already has a wealth of full-blooded ballets. I wanted to create something lighter and more friendly." He chose Lauren Cuthbertson for the lead role of Alice as someone who could "captivate the audience and make them believe in Alice." As for the music, Talbot explained that he "wanted to find a new sound, the right timbre for Wonderland." His orchestral score has a large percussion section and four female voices.
Characters
Oxford Characters
Alice: the original protagonist in Lewis Carroll's novel, in which she is a child; in the ballet she is a teenager beginning her first romance.
Henry Liddell and his wife: Alice's parents; her father is the vice-chancellor of Oxford.
Lewis Carroll: The author of Alice's Adventures in Wonderland Lorina and Edith: Alice's two sisters.
Jack: The gardener's boy who is sent away after being accused of stealing a jam tart.
Wonderland Characters
The Queen of Hearts: A homicidal monarch wearing blood red and terrorizing everyone in sight.
White Rabbit: The Queen's assistant, frightened of his employer.
Knave of Hearts: One of a pack of playing cards, he is accused of stealing jam tarts and stands trial.
The Duchess: A lady of Wonderland who is invited to play croquet with the Queen.
The Frog: Butler to the Duchess.
The Fish: Letter-carrier of Wonderland.
The Cheshire Cat: A mysterious grinning cat whom Alice asks for directions.
Mad Hatter, March Hare & Dormouse: Three characters whom Alice encounters having a tea party.
Caterpillar: An exotic insect who gives Alice a piece of hallucinogenic mushroom to eat.
Sources